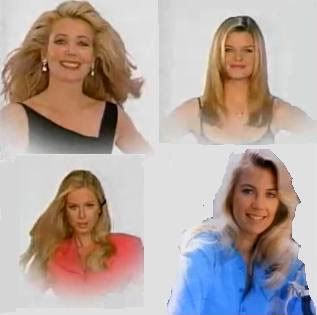 The picture above is a dated composite of Beth and the Logan girls, created before the advent of good image manipulation software
Nelson Branco reports
that Melody Thomas Scott is being written out of Y&R, since her contract negotiations are not going well.
I am
dismayed
.
This is the
wrong
thing to do. There are 20 (I'm not exaggerating) less interesting cast members who should be cut first...I'd give up 10-15 folks for Melody as Nikki. This (cutting core veterans for financial reasons) is the sickness that has killed the rest of daytime. It has been happening for a while on Y&R (Victoria Rowell, Jerry Douglas, Don Diamont), but this is the worst. Clearly, Eric Braeden is probably next. It's wrong, wrong wrong.
But, okay...even though this is just wrong, but I'm over it.
Because the perfect role exists for Melody.
Melody as Beth Logan on B&B
. Hear me out:
- Melody in catfights with Susan Flannery's Stephanie. Priceless.
- Melody as the mother to Heather Tom's Katie. SUPER-PRICELESS. Nikki and Victoria re-united.
- Melody as the mother to Jennifer Gareis' Donna (after cussing her out for years as Y&R's Grace Turner). Priceless
- Melody having confrontations with Don Diamont's Bill Spencer Jr. (after Nikki's many years with Brad Carlton). SUPER-PRICELESS.
Plus, Melody's skills at broad comedy and archness would fit in excellently in the campy B&B universe. I'd love to see her "counsel" grandchildren Rick and Bridget in their wicked romantic ways.
Sadly, Beth (save for a few days when she was played by Marla Adams -- Y&R's former Dina Mergeron) has been dull as dishwater. It's time to amp her up, and make her a mother SUITABLE for her Logan-slut daughters.
I just think Melody and Katherine Kelly Lang's Brooke would just SHINE in scenes! I'd love to see MTS's Beth constantly "coaching" Brooke in how to get her various men back.
I even think Melody sparring with Alley Mills' Pamela would be a hoot.
Universe, PLEASE PLEASE PLEASE make this happen! I'll even send money.